For the release of Cornerstone 1.5 we wanted to design a set of marketing visuals that we hoped would be compelling. To achieve this lofty goal we convinced ourselves that we needed a new software application and so ended up purchasing Luxology's Modo in the hope that it would inspire us (and just because we love 3D graphics).
The first task was to recreate the Cornerstone logo in 3D. Modo is a pretty heavyweight application and the learning curve for creating even simple shapes is pretty steep but after a fair bit of tinkering we nailed it. The most frustrating part was getting the boolean operations that 'cut' the 'S' shape out of the cornerstone to work properly.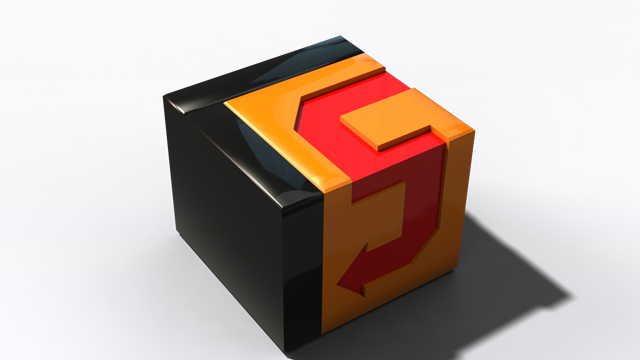 After further tinkering we stumbled across Modo's support for replicators and the ability to create lifelike fur materials. We thought these were superb and ended up applying them to our new pristine 3D logo with some really pleasing results.
In fact we thought it was so cool we tried to justify using it by associating it with various slogans such as 'Cornerstone 1.5. It's furry good'. Or 'Cornerstone 1.5. Cuddly version control'.
None of these really worked, as we're sure you agree!
Now we're not the type of guys that give up too easily and obsessing about it further opened our eyes to a new type of fur: grass! Now grass is basically green fur, but what that meant was that we could now create a living, breathing miniature world out of our Cornerstone logo. The cornerstone block itself would be a garden or park and the 'S' would represent a path through the grass.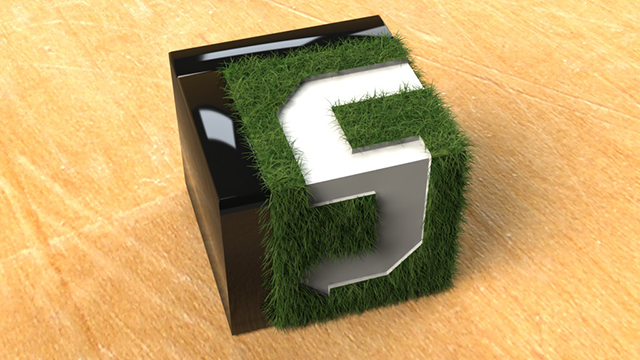 Adding the geometries for the figures, bin (or trash can), sign post, bench and tree along with the path texture and environment mapping really brought the scene to life. To enhance the miniature nature of the scene we applied a shallow depth of field or 'tilt-shift' effect to the final render in post processing.
For version 1.5 we ended up using the slogan 'Cornerstone 1.5. Finely crafted version control for the Mac.' but for the sake of this article and because it's my personal favorite I've updated the visual with the slogan you can see below.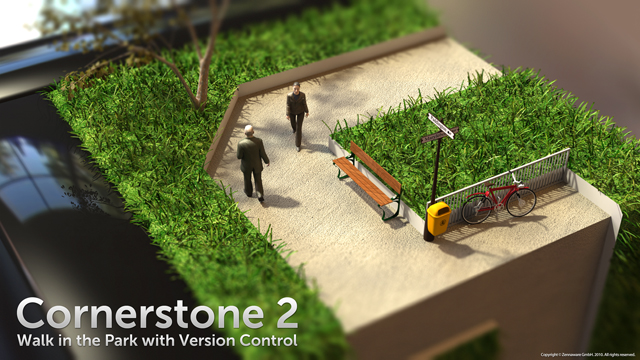 A higher resolution version can be found here.