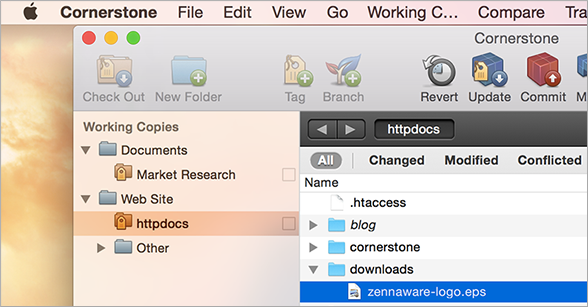 Yesterday Apple announced that OS X 10.10 Yosemite, which was introduced at this year's WWDC, is now available for download from the App Store.
We have been running the various beta versions of Yosemite since June. Cornerstone didn't run perfectly on early builds of the OS, but Apple has been busy fixing bugs and Cornerstone 2.7.14 runs fine on the final version.
However, Yosemite brings with it a significant overhaul of the Mac user interface. Such sweeping changes impact all Mac apps, and Cornerstone is no different. While the app runs fine on Yosemite, it doesn't look particularly at home on the new OS.
But this will soon change. We have been hard at work polishing Cornerstone to fit right in on Yosemite and will release an update to 2.7 in the coming weeks to address the visual glitches and inconsistencies in the current version. The release is almost ready, but we've been delayed by Apple's recent requirement that all new submissions to the App Store are built with Xcode 5.
Migrating to Apple's newer toolchain unfortunately took longer than we anticipated, in particular because the older versions of Subversion included with Cornerstone (specifically 1.4 and 1.5) are no longer compatible with the compiler and libraries included with this version of Xcode. As a result, the next version of Cornerstone will drop support for these older versions of Subversion.
1.6, 1.7 and 1.8 will still be supported of course, but if you still need compatibility with 1.4 and 1.5 then you'll be best served by sticking with 2.7.14.